Steven Rosengard's Dream for a Creative Fashion Empire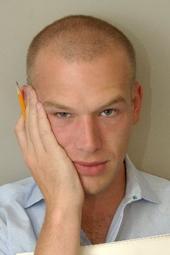 Steven Rosengard is the assistant curator at the Chicago Museum of Science and Industry, as well as a fashion designer. He was on Season 4 of Project Runway, the only non-California based designer on the show.
Steven first fell in love with fashion at a very young age when he visited the Chicago Museum of Science and Industry and saw the garments that the mannequins wore. He began sketching clothing designs and in High School, he designed prom dresses for many of his classmates. Steven eventually got a job as a textile specialist at the very museum where he fell in love with fashion. He now works on curating exhibits. He loves the museum because he is helping create people's memories.
Steven also runs his own fashion design business, working on custom women and men's clothing. Steven's passions earned him a spot on Season 4 of Project Runway. Steven came away from the experience somewhat disillusioned by the fleeting nature of celebrity but inspired to do something big with his fashion career. Steven's dream is to create a global fashion empire that empowers regional designers to have the autonomy and freedom to be creative in their designs. Steven says his one rule would be that "the new design can't be the same as the original". Steven hopes that his dream will inspire a unique brand of clothing and create jobs for young design school graduates.
Check out our interview with Steven: